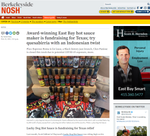 https://www.berkeleyside.com/2021/02/23/east-bay-lucky-dog-hot-sauce-texas-fundraiser-indomex-brunch
Award-winning East Bay hot sauce maker is fundraising for Texas; try quesabirria with an Indonesian twist
Plus: Espresso Roma is for lease, a Black history jazz brunch, Chez Panisse is closed this week due to potential COVID-19 exposure, more.
Lucky Dog Hot Sauce is fundraising for Texas relief
Last month, Scott Zalkind of Hayward's Lucky Dog Hot Sauce was riding high on his recent Good Food Awards win. After two years of being a Good Food Awards finalist, Lucky Dog was finally in the company of the winners, nabbing accolades for its extra hot Pink Label, Applewood-Smoked Habanero Pepper Sauce. With the Good Food Awards win came new fans, and this month, Zalkind decided to hit fellow hot sauce lovers on his social media platforms to join him in helping people (and pets) in Texas affected by the recent freezing winter storms. Over the weekend, he started a contest on Instagram and Facebook, urging fans to donate $10 to one of six charitable causes in Texas for a chance to win a set of Lucky Dog hot sauces. Eventually, other hot sauce makers from across the nation saw his posts and asked to join the fundraising effort by donating their sauces to the bounty, raising the value of the grand prize to $1,000.
Lucky Dog Hot Sauce is raising funds for Feeding Texas, Austin Pets Alive, Free Lunch, Crowdsource Rescue, Houston Food Bank and Other Ones Foundation. Every receipt proving a $10+ donation to one of these groups is an entry to win one of two prizes: One heat-lover will win a huge collection of hot sauces and products from Lucky Dog, Bravado Spice, Hell's Kitchen Hot Sauce, Chef Iron Mike, Angry Goat, Hell Fire Hot Sauce, Eat Beer Hot Sauce, Hot Ones, Culley's, Burns and McCoy Sauce Company and others. The runner-up will get a full set of 12 Lucky Dog Hot sauces and swag. (Check Facebook and Instagram for full contest details.) Zalkind explained in an email to Nosh, "There's no requirement to purchase anything from me or any of the companies who've generously donated to the prize — we just want to help as many people/animals as possible." On March 3, Zalkind will use a randomizer to pick a name from entries received via Lucky Dog's Instagram and Facebook and his Twitter account.