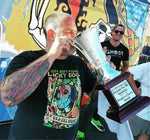 Patrons of the 2017 California Hot Sauce Expo registered their votes, and Lucky Dog Hot Sauce was the People's Choice!  
After coming in 2nd place by a mere 4 votes in 2016, this year Lucky Dog took home top honors.  
August 20th, 2017, filled with ghost tequila margarita! 
A proud moment for this Californian, and it made for one heck of a great birthday present! 
Love & Hot Sauce


Scott